How the power of planning and forecasting created off the chart results for Rhombus Construction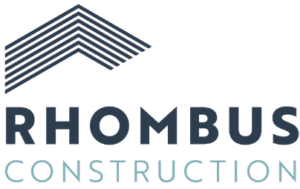 After being in loveless relationships with two previous accountants for a few years, Abby and Matt Linn, owners of Rhombus Construction, decided to switch to a cool new accountant (that's us, BTW) to get help with their tax obligations and end of year financials.

"I just had this horrible feeling of never knowing if I was doing things right when it came to our accounts," said Abby.

"I was always so scared to ring my old accountant because it would cost me money.
"We weren't on the same page, they didn't really understand our business, or even where I was at in terms of my abilities. The communication was really poor."
Lucky for us this awesome couple found their way to SMYD.
It soon became clear that Abby was all over what she needed to do with day-to-day book management, she just needed a little guidance and support to use Xero to its full potential with confidence.
"With Jason, it was just so real and refreshing to have someone tell us we were already doing a good job and that we just needed to sit down and have a training session together at the beginning.
"He really took the time to understand how my brain works, and to really understand our business and how it differed from anybody else.
"Then he set up Xero accounts with me, and made sure we're both on the same page, so I could manage our accounts independently. No other accountant has ever done that for me.
"Since being with SMYD I've never felt like I've done something wrong. Or, that I'm stupid for asking, or I that I should have known something.
"He took the time to teach me and now I'm super capable.
"That's where I wanted to be but no one ever was prepared to take me through that journey."
Looking at the bigger picture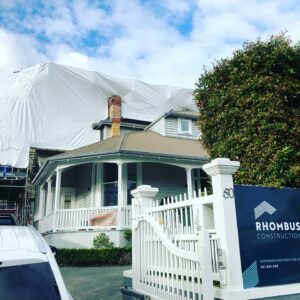 Once Abby felt 100% confident managing the day-to-day running of the books, we shifted attention to the vision Abby and Matt had for their business and lifestyle.
Most of all we looked at the personal and professional goals Abby and Matt wanted to achieve, which included:
Greater flexibility and more family time.
Moving Matt into a project management role.
A new family home.
To achieve these goals, we needed to understand what was possible for Rhombus Construction from a financial growth perspective.
So we worked with Abby and Matt to plan different scenarios for how Matt could move into a project management role, by bringing more employees on board to replace him on the tools.

"It meant really understanding our numbers so we could plan and forecast for this change in a realistic and sustainable way.
"With Jason we looked at how much we needed to grow and what systems and processes we needed in place to streamline and manage the new workload, so we could ensure we were budgeting appropriately for it," said Abby.
Achieving "mind-blowing" goals
Seeing Abby and Matt (and our other clients like them) fully embrace their CEO role because they've got a solid understanding of their financials and a super clear plan gives the whole SMYD team a major buzz.
We get a total kick out of watching our clients evolve, grow, and smash amazing goals.
"It's mind-blowing how far we've come.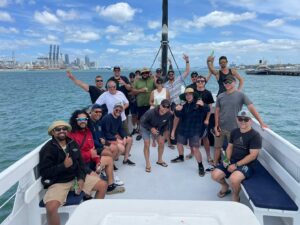 "Matt was working all day, we were working at night, and making minimal profit. We were basically working harder than when we were employed but for less money and way more stress.
"We were really struggling with no quality of life, there was no balance. There was this constant 24/7 trying to make the business work.
"When we took on SMYD, it was Matt and one to two guys working for us.
"Now we've got nine guys working for us and Matt has been able to move into the project management role, which is great.
"We've doubled our turnover, two years running. But most important to us is that there's so much more flexibility and balance in our lifestyle.

"And we finally secured a new family home with more space and land for our kids to play in.
"We feel like the work has actually paid off. It's now a business instead of a job with late nights, liabilities, and overheads.
"Being able to really break it down with Jason, we had a way clearer path.
"Understanding our numbers and forecasting has been huge in terms of our strategy and our future planning for the company.
"Working out how to make a profit. Not just meeting tax obligations, but actually being able to forecast and be like, this is where we are now, this is where we want to be.
"It's been a real game-changer for us.
"You just won't meet anyone like them. They're not your typical accountant stereotype.
"They're normal people who spend the time getting to know you and your business and want to see you thrive. And it's so refreshing."
Need a savvy accounting and business advisory partner to help you explode your growth too? Check out our business advisory services, including our business planning session and let's accelerate you towards your vision.
Ready to get cracking? Get in touch with us today.